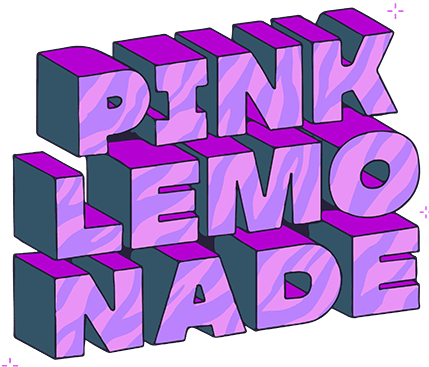 BAR | BBQ | MUSIC
FOOD TRUCKS
We Are Currently Closed
But Will Open Later Today
From 4pm – 1am
* Function Booking Available *
7 days a week
The perfect place for pre-drinks before heading to the sporting precinct. Located next door to the Richmond Train Station and only 5 Mins walk to Rod Laver Arena, MCG, Olympic Parks, Melbourne Cricket Ground, Punt Road Oval, Melbourne Park, The Glasshouse, Margaret Court Arena, Garden Square, AAMI Park, Collingwood Football Club, Kia Arena
The perfect place for pre-drinks before heading to the sporting precinct. Located next door to the Richmond Train Station and only 5 Mins Walk To  Melbourne's Sporting Precinct Walk
PLAYING ON THE BIG SCREEN
Cocktails - Spirits - Wine
Beer On Tap
| | | |
| --- | --- | --- |
| | POT | SCHOONER |
| CARLTON DRAUGHT | $6 | $9 |
| BALTER XPA | $7 | $10 |
| 4 PINES PACIFIC ALE | $7 | $10 |
| GREAT NORTHERN | $6.50 | $9.50 |
| MOUNTAIN GOAT | $7 | $10 |
| SOMMERSBY APPLE CIDER | $6.50 | $9.50 |
| MELBOURNE BITTER | $7 | $10 |
| | |
| --- | --- |
| GREY GOOSE VODKA | $11 |
| BOMBAY SAPPHIRE GIN | $11 |
| PATRON TEQUILA | $11 |
| JACK DANIELS | $11 |
| JOHNNY WALKER | $11 |
| CANADIAN CLUB | $11 |
| BARCARDI SPICED RUM | $11 |
| HENNESSY | $12 |
| JAMESON | $12 |
| OLD FORESTER BOURBON | $12 |
| | |
| --- | --- |
| LONGEST ISLAND | $24 |
| PINK LEMONADE | $20 |
| ESPRESSO MARTINI | $20 |
| PEACH MELBAN | $20 |
| MARGARITA | $20 |
| MOJITO | $20 |
| PINK PASSION MARTINI | $20 |
| APEPOL SPRITZ | $20 |
| STRAWBERRY MOJITO | $22 |
| COSMO | $20 |
| STRAWBERRY SLUSHIES | $12 |
| | |
| --- | --- |
| SAN PIETRO PINOT NOIR | $11 |
| MARTINI PROSECCO | $10 |
| BAROSSA VALLEY CAB SAV | $10 |
| LA MASCHERA PINOT GRIGIO | $11 |
| MARLBOUROUGH SAV BLANC | $10 |
| MAISON FRANCAISE ROSE | $11 |
| BOUCHER SHIRAZ | $11 |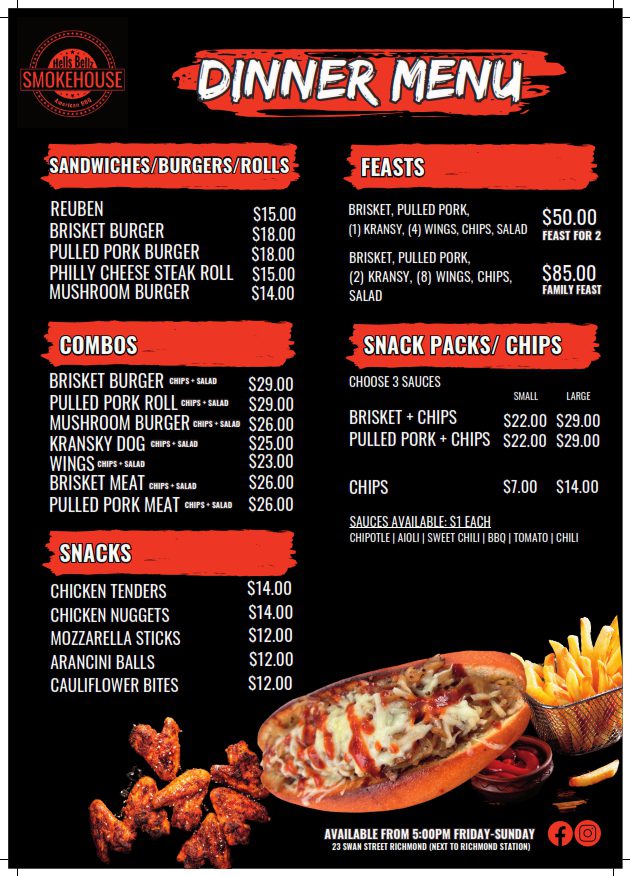 Meat, Burger, Dog, or Wings, with your choice of Potato Salad, Greek Salad, or Home Made Slaw, and Chips

| | |
| --- | --- |
| Pulled Pork, Salad & Chips | $26 |
| Brisket, Salad & Chips | $26 |
| Wings, Salad & Chips | $23 |
| Pulled Pork Burger, Salad & Chips | $29 |
| Brisket Burger, Salad & Chips | $29 |
| Mushroom Burger, Salad & Chips | $26 |
| Kransky Dog, Salad & Chips | $25 |
+ Extras
Feast For two:    $50
Brisket, Pulled Pork, two Chicken Wings and one Kransky with your choice of two salads, and chips
Family Feast:    $85
Brisket, Pulled Pork, four Chicken Wings, two Kransky with your choice of two salads and chips

+ Extras
SM
LG
Chips
$7
$14
Potato Salad
$7
$14
Home Made Slaw
$7
$14
| | |
| --- | --- |
| Korean Fried Chicken Bites | $12 |
| Cauliflower Bites | $12 |
| | |
| Mozzarella Sticks (8) | $12 |
+ Extras
All our burgers are served in a toasted brioche bun, with aioli, BBQ sauce, pickles, slaw and cheese
| | |
| --- | --- |
| Pulled Pork Burger | $18 |
| Brisket Burger | $18 |
| Battered Mushroom Burger | $16 |
| Kransky Dog | $14 |
All Kransky Dog, are served with caramelised onion, shredded cheese and your choice of two sauces served in a hot dog bun
+ Extras
Your choice of 3 sauces or gravy + Cheese Sauce | Shredded
| | | |
| --- | --- | --- |
| | SM | LG |
| Pulled Pork Snack Pack | $22 | $29 |
| Brisket Snack Pack | $22 | $29 |
| Falafel Snack Pack | $16 | $23 |
+ Extras
| | |
| --- | --- |
| Nuggets & Chips | $12 |
| Chicken Tenders & Chips | $12 |
| | |
| --- | --- |
|   |   |
| Pulled Pork 100g | $15 |
| Brisket 100g | $16 |
| Chicken Wings (4) | $12 |
| Kransky (1) | $8 |
| | |
| --- | --- |
| Shredded Cheese | $3 |
| Mushrooms | $3 |
| Fetta | $3 |
| Olives | $3 |
| | |
| --- | --- |
| Tomato Sauce | Mustard – FREE | $0 |
| BBQ | Chipotle | Chili | Sweet Chili | $1 |
| Sour Cream | Hummus | Aioli | $1 |
| Gravy | Cheese Sauce | $3 |
| | |
| --- | --- |
| Powerade – Berry | Blue | Gold Rush | $4.50 |
| Coke Classic | Diet | Vanilla | No Sugar | $4.50 |
| Lift | Sprite | Fanta | $4.50 |
| Water | $3.00 |
SMALL TO LARGE GROUPS
Pink Lemonade is an exceptional venue that can easily cater to events with over 400+ attendees. Our unique and versatile spaces are perfect for accommodating smaller groups of between 10 to 160 attendees, while our communal areas can be booked and sectioned off from the public.
NO HIRE CHARGE – FULL TRANSPARENCY
We pride ourselves on offering transparent pricing with no hidden fees for private functions. With a minimum spend of just $500 (for semi-private events) and $3000 (for private room events), your guests will have more money to spend at the bar. Not to mention, our drink prices are the best in the area by far!
CATERING
We provide a range of finger food and canapé options starting at just $25 per head.
MEDIA
We also offer a microphone PA system for music and our BIG 3 x 2 mtr screen access, all available free of charge.
HOW WE HELP
At Pink Lemonade, we understand that organizing and running a party can be a stressful experience. That's why we have a full-time event manager to offer for additional services such as organizing some of Melbourne's best food trucks, DJs, performers, and entertainment so that you can relax and enjoy your special event with your friends, family, or colleagues.
Great Sunday afternoon on a cold and sunny day. Cocktails were amazing and fantastic food. Great atmosphere. Highly recommend

Sheridan Rollard


definitely worth going there for a drink

jimmy taylor


This place is an absolute vibe! So relaxed! The staff are friendly and the music is so accommodating to all types. Can't recommend enough!

Colleen Merrick


Great place and friendly staff as for Olivia above lots of wine and extras... As for rudeness of staff never seen it but you get back what you give prncess

Adam Paine


Liam the bartender is soo hot 🔥 I visit hoping he slides me more than a drink..

Derek Fong


Yesterday was our 4th visit to Pink Lemonade and we've been very impressed with the speed of service and how friendly the staff are. Highly recommended for a pop in for a bite and a few drinks or it is awesome for groups as well.

Steve F

23 Swan St, Richmond VIC 3121
Get The Latest Events & Discounts